Valorizace výkupní ceny elektřiny z bioplynu
10. 02. 2022
15:41
CZ Biom – České sdružení pro biomasu, z.s.
,
Adam Moravec
Pro zahájení diskuze o valorizaci výkupní ceny, a tedy podpory elektřiny z bioplynu, je asi nejlepší položit si otázku: "Znáte někdo nějakou komoditu, která si drží 12 let stále stejnou cenu?" Nevím, jak dlouho každý bude hledat odpověď na tuto otázku, a proto hned jedna správná: "Podpora elektřiny vyráběná z bioplynu!" Ta je totiž od roku 2009 stálých 4,12 Kč/kWh.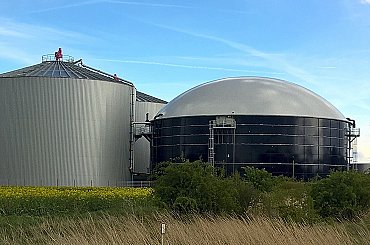 Jde o takovou technicko-ekonomickou anomálii. Pro oblast obnovitelných zdrojů je podpora vymezena zákonem č. 165/2012 Sb., o podporovaných zdrojích energie. Tento zákon společně s dalšími dává Energetickému regulačnímu úřadu (ERÚ) kompetence pro to, aby mohl stanovit výkupní cenu pro jednotlivé druhy obnovitelných zdrojů tak, aby:
a) bylo dosaženo patnáctileté doby prosté návratnosti investic za podmínky splnění technických a ekonomických parametrů, kterými jsou zejména náklady na instalovanou jednotku výkonu, účinnost využití primárního obsahu energie v obnovitelném zdroji, v případě výroben elektřiny využívajících biomasu, bioplyn nebo biokapaliny náklady na pořízení paliva a doba využití zařízení stanovených prováděcím právním předpisem,
b) zůstala zachována výše výnosů za jednotku elektřiny z obnovitelných zdrojů při podpoře od roku uvedení výrobny elektřiny do provozu po dobu trvání práva na podporu jako minimální s pravidelným ročním navýšením o 2 %; to neplatí pro výrobnu elektřiny využívající biomasu nebo bioplyn nebo biokapaliny.
More information here.
22. 11. 2022
19:25
https://www.forbes.com
,
Dan Eberhart
Oil prices bounced back Tuesday as members of the Organization of the Petroleum Exporting Countries (OPEC) and their allies disput…
18. 10. 2022
17:25
https://www.forbes.com
,
David Blackmon
Europe's ongoing massive intervention into the liquefied natural gas trade has become a global problem as dozens of LNG tankers li…
18. 10. 2022
17:25
The Guardian
,
Peter Hannam
Australia Institute says the tax would be a responsible way for Australians to receive a fair return for exploitation of gas resou…
06. 10. 2022
16:41
Euractiv.com
,
Kira Taylor
Several EU countries proposed limiting volatility in the gas market by introducing a "dynamic price corridor" to prevent prices fr…
02. 09. 2022
9:00
Euractiv.com
,
Kyra Taylor
The European Commission is considering emergency measures, including price caps and incentives to reduce electricity consumption,…
ENERGY-HUB is a modern independent platformsharing news and analytic articles from the energy sector on a daily basis. Within our portfolio we monitor czech, slovak and foreign press releases.
74541
Number of published news
2092
Number of published events
847
Number of published articles