Belarus grid-connects its first nuclear unit
03. 11. 2020
16:34
World Nuclear News
,
World Nuclear News
Unit 1 of the first nuclear power plant to be built in Belarus has been connected to the grid and is supplying electricity, Rosatom announced today. The Russian state nuclear corporation describes the VVER-1200 design, of which the Ostrovets unit is the first to be built outside Russia, as "the backbone" of its export portfolio that comprises 36 units across 12 markets.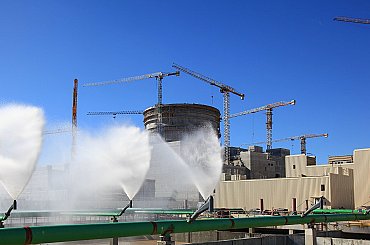 You are not logged in
If you want to read more, join the ENERGY-HUB club
Login
Try the monthly membership in the ENERGY-HUB club for free!
18. 04. 2021
11:30
enviweb
The maritime shipping industry has set ambitious decarbonization targets over the next decade. Shrinking the shipping industry's c…
28. 10. 2020
17:34
World Nuclear News
,
World Nuclear News
The Ukrainian Energy Association says it is writing to the government urging enhanced support for the country's nuclear industry.…
27. 10. 2020
7:34
The Guardian
,
¨Jillian Ambrose
17m tonnes of carbon dioxide to be stored beneath the North Sea every year
26. 10. 2020
18:35
World Nuclear News
,
World Nuclear News
The board of the Ministry for Emergency Situations of Belarus has issued a permit for the power start-up of unit 1 of the country'…
26. 10. 2020
18:35
World Nuclear News
,
World Nuclear News
Fatih Birol, executive director of the International Energy Agency, today reiterated that all clean technologies, including nuclea…
ENERGY-HUB is a modern independent platformsharing news and analytic articles from the energy sector on a daily basis. Within our portfolio we monitor czech, slovak and foreign press releases.
62385
Number of published news
1908
Number of published events
672
Number of published articles