Russia's energy (in)efficiency
Along with concerns about the consequences of global climate change have come initiatives to slow the process. The development of energy generation through renewable sources is one aspect, but energy efficiency has also become increasingly important over the past decades. Both economic growth and consumer behavior play a role in global consumption and efficiency. While national governments have to lower the energy-intensity of their GDP, consumers ought to become more energy efficient as well. Certain parts of the world have given more attention to this task than others, though full potential is reached nowhere. On a global scale Russia is lagging behind. While legislation has been implemented over the past decade to improve efficiency, both Russian households and the industrial sector are remarkably less energy efficient compared to the rest of the world.
The importance of energy efficiency
Energy efficiency is important for several reasons. According to the IEA "Efficiency can enable economic growth, reduce emissions and improve energy security" (IEA 2018). As the IEA explains in its 2018 report on energy efficiency, improved efficiency means that economic growth can be increasingly uncoupled from (increased) energy consumption. But while global efficiency policies over the past few decades have had a considerable impact, they have not been able to curb growing global energy consumption. Global consumption has primarily been boosted by several fast-growing economic activities in developing countries such as India and China that require a lot of energy and thus boost global consumption. As a result, growth in global energy demand amounted to 2% in 2017.
While there have been (global) initiatives, much more can be done to curb this trend by implementing all available economically viable energy efficiency potential. Doing so would decrease the energy intensity of global GDP and lower greenhouse gas emissions and air pollution. Transport would have to become more efficient as well as buildings, the industrial sector will have to improve the efficiency of its equipment. Such measures need considerable investment, but pay themselves back over time.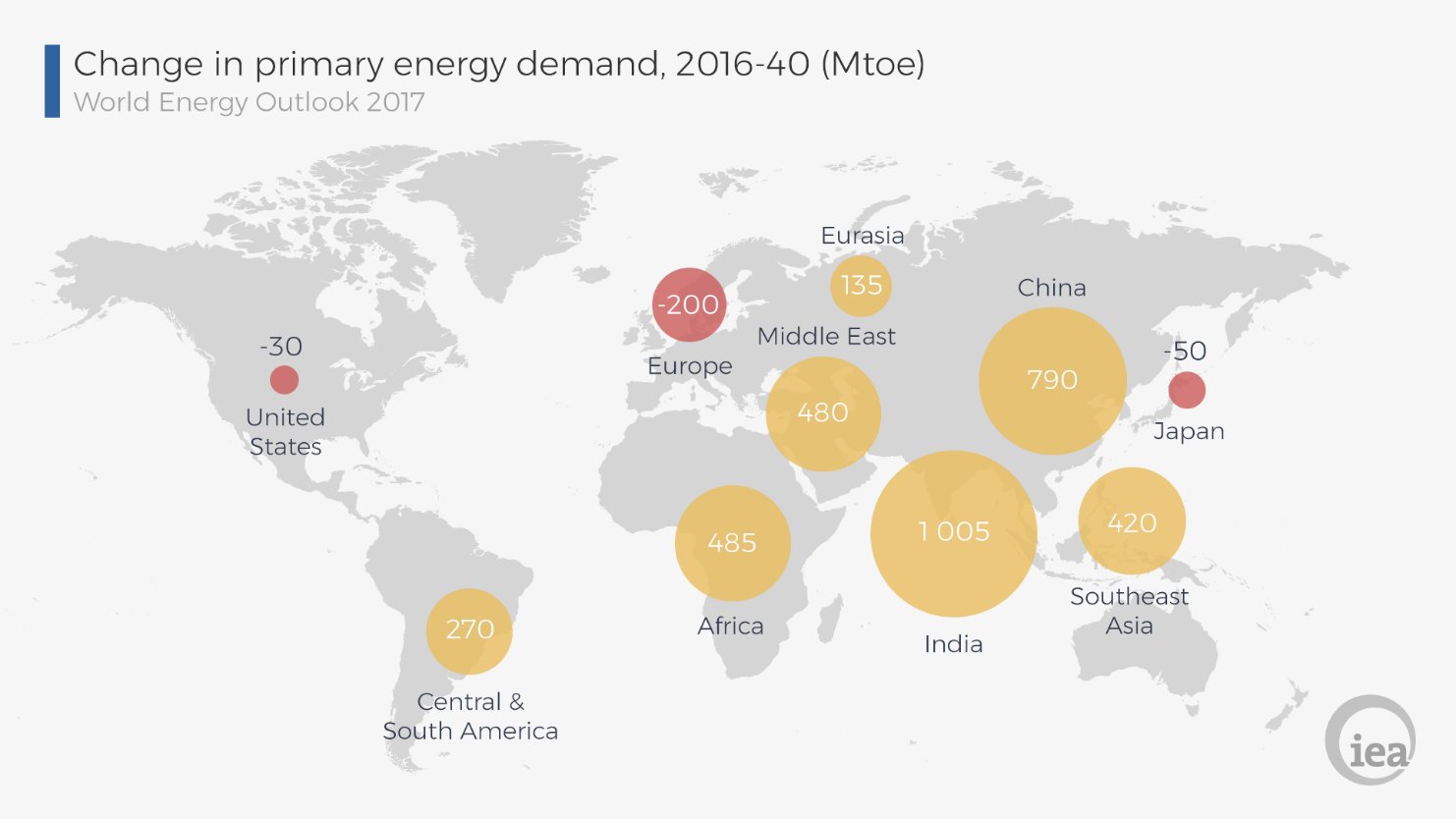 Source: IEA
Energy efficiency in Russia
What is well known about Russia is that it is a major energy exporter of oil and gas and therefore an important player in the global energy market and the supply of conventional fuel sources. However, on curbing climate change through renewable energy sources and making domestic energy consumption more efficient, Russia does not play a leading role. According to a 2014 IEA review of Russia's energy policies, Russia is actually falling far behind the rest of the world. There are several explanations for this phenomenon.
Firstly, Russia's power generation and transmission systems and district heating supply chain are characterized by their old age. Secondly, Russia's economy is highly industrialized, energy demanding and inefficient, meaning that access to cheap energy and an abundance of it is of economic importance. Thirdly, consumer behavior plays a role for example in residential buildings where people overuse energy. Both industrial and consumer's energy inefficiency is partly linked to low (subsidized) energy prices and market conditions that have encouraged economic growth and energy usage, which in turn has impeded incentives to modernize. Particularly in the years where Russia was experiencing the most economic growth (around 2000-2008), energy consumption per capita has risen steadily. While it is normal that economic growth leads to higher energy consumption, consumption would not have risen so strongly if Russia's economy was more efficient. The IEA illustrates Russia's inefficiency in its report by stating that "…the amount of energy Russia needs to produce a unit of GDP (in purchasing power parity terms) is still about two times higher than the average of IEA member countries" (IEA 2014, 31).
A complicating factor that is also often presented by Russia's authorities is Russia's geography and climate. As Russia is the largest country in the world and experiences harsh and long winters this complicates the government's task to construct far-reaching infrastructure that is able to efficiently supply consumers with energy, as well as reducing consumption when the temperatures are low. These factors pose major policy challenges for the Russian government, in which reliable infrastructure needs to be combined with affordable consumer prices. 
Though Russia has an energy intensive economy, it also has a high potential for savings. According to a 2009 report from consulting firm McKinsey, the biggest opportunities for Russia regarding the improvement of its energy efficiency lie in buildings and construction (installing thermostats and insulation, letting people pay only for the energy they consume), fuel and energy (more maintenance, reducing leaks, streamlining the gas delivery system, reducing energy consumption of power plants and reducing energy loss in heating systems) and industry and transport (making machines more efficient) (McKinsey & Company 2009). Fuel diversification such as nuclear energy is also presented as an opportunity, which is one area to which the Russian government has paid considerable attention over the past years.
Modernizing Russia's residential buildings is particularly important for consumers to actively participate in making Russia more energy efficient. In many Russian buildings, the temperature is not regulated and even thermostats are missing. As a result, people tend to open their windows to regulate the temperature while the heating is blasting on high. On top of that, buildings are often poorly isolated.
Old Russian apartment building, Source: Russia Beyond
But Russia's ageing energy infrastructure network causes several problems before energy even reaches the consumer. As a first example, upstream (gas) flaring causes loss of energy. Secondly, along the way gas pipes are often damaged and leaking while the gas flows unevenly pressurized through the pipes. And as a final example, there are losses as a consequence of ageing power plants when conversing energy to electricity.
According to a 2014 World Bank report, Russia's energy inefficiency at that time amounted to the annual primary energy consumption of France, furthermore stating that Russia could save 45% of its primary energy consumption. According to the researcher's calculations, the total cost of $320 billion would be paid back to investors and end users in four years with annual cost savings of $80 billion per year, while the total economy would benefit $120-150 billion annually through cost savings and additional revenue from natural gas export (The World Bank 2014).
The main potential for Russia, according to the World Bank report, lies in end-use sectors such as manufacturing and transportation as opposed to the supply side such as electricity and heat generation, which is similar to the McKinsey report. As examples of policies for residential buildings, the World Bank proposes mandatory building standards that are regularly updated and clearly enforced, organizing a public awareness campaign and encouraging the usage of energy meters. Regarding industry, the report encourages policies that firstly incentivize firms with information campaigns. The Russian government is furthermore encouraged to supply capital to fund projects and employ fiscal instruments such as tax rebates or accelerated depreciation to incentivize companies to invest in their own energy efficiency by, for example, buying modern equipment. On transport, the modernization of public transport is supposed to curb the ever growing usage of private transport.
There are several beneficial layers that should incentivize Russia to improve its energy efficiency. Firstly, improved efficiency would make Russian firms more competitive. For budgetary reasons the Russian government has already taken steps to lower energy subsidies to domestic companies. As energy costs consequentially rise for these companies, this negatively affects their competitiveness. However, if these firms were to be able to operate on less energy, their energy bill will go down, and as a result they will be more competitive. Secondly, energy efficiency would allow Russia to export more of its oil and gas, leading to higher export revenues. Thirdly, energy efficiency would significantly lower (federal and local) budget expenditure. And lastly, greenhouse gas emissions could be reduced which would be beneficial for the environment. There are thus both internal and external incentives for Russia to increase its efficiency. Internally, Russia can reduce the costs of its energy consumption and thereby improve the competitiveness of its firms. Externally, Russia would be able to export a larger share of its resources.
Policies and results
Around 2008, the Russian government did see the afore mentioned opportunities that improved energy efficiency could bring. And in order to encourage such an improvement, new policies were taken on for example in the 2009 'Energy Conservation and Energy Efficiency Increase Law' that were targeted to increase efficiency with 40% of GDP by 2020. Additionally, international cooperation was set up and capital was to be provided to finance energy-saving initiatives. However, in the following years real results did not transpire. While firms gladly benefitted from subsidies offered by the state to upgrade their equipment, those big companies working in old industrial complexes were not provided with enough capital to upgrade their entire systems and were thus unable to take the necessary steps, says Russian journalist Angelina Davydova (Davydova 2015).
On the residential level, Davydova says, the capital that was supposed to be provided for modernizations and renovation was never clearly laid out. Due to a missing overarching national policy it was unclear where the necessary funds would come from. As a result, regions and cities were left to make their own policy on their own initiative. The economic hardship in Russia that followed in the years following the initial enthusiasm and project proposals also had a curbing effect on the initiatives that were already there. Any new regional projects were not receiving funding. Thus, the Russian government in a way 'abandoned' its initial plans, which in turn discouraged potential local and private initiatives.
In addition, the current programs and plans that are still running lack efficiency themselves. In a recent academic article, the authors argue that the main factor restraining improved energy efficiency in Russia is the lacking of effective policies with current tactics that are too fragmented and limited. For example, the indicators that the Ministry of Energy uses to measure progress in increasing energy efficiency are insufficient as they do not present a comprehensive overview of the energy sector of Russia's economy (Lobova, et al. 2019, 210). In order to track energy efficiency progress, the ministry uses the value for energy intensity of Russia's economy. The authors of the article consider this to be misleading as there are many more factors that influence this indicator that are not directly related to energy efficiency. An effective system that reliably tracks, evaluates and encourages progress is thus lacking.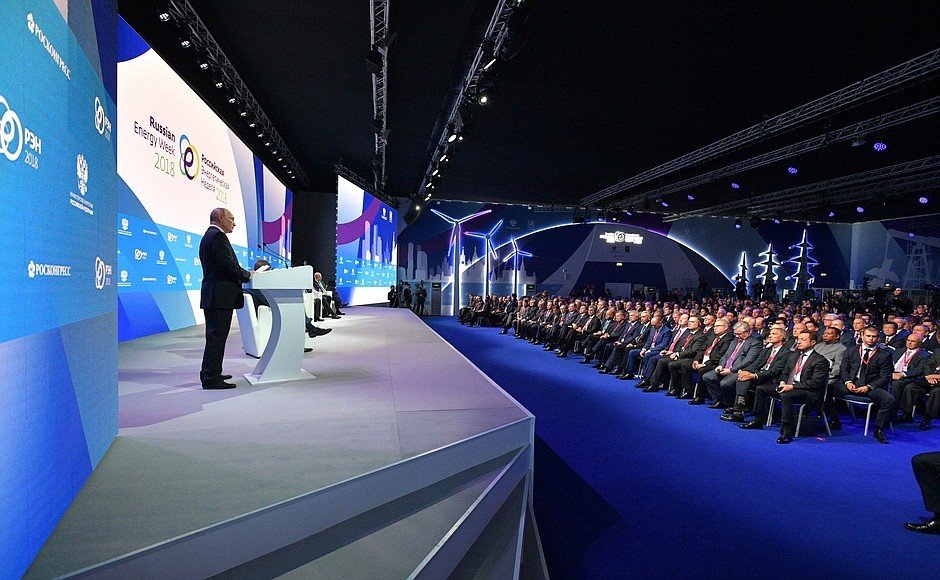 Russian President Putin at the plenary session of the Russian Energy Week International Forum, Source: Kremlin.Ru
On 3 October 2018 on the 'Russian Energy Week, Energy Efficiency and Energy Development International Forum' in Moscow, President Putin opened the event by speaking about Russia's position in the global energy market. In his opening speech he primarily stressed Russia's abundant energy resources, its strong and influential position in the global energy market and the need for pragmatic international cooperation after which a Q&A followed. Putin did briefly stress the need for "sustainable and steady development of the energy industry" for economic growth and people's well-being but did not make any specific comments on Russian energy efficiency. Contrary to what the title of the event might suggest, all questions were focused on Russia's strategy related to (geo)political issues with Europe, the USA, Iran and Venezuela (Kremlin.ru 2018). While these are all important issues, it also illustrates that (discussing) energy efficiency is not a main priority.
On the website of Russia's Ministry of Energy one can find Russia's 'overall position' on energy efficiency in which Russia's commitment towards improving its energy efficiency is stressed on a political level (Ministry of Energy of the Russian Federation n.d.). But tangible motivation, participation, measures and results are clearly lacking which is shown in the absence of coordination between federal and regional policies. Different standards make the system opaque and unclear for the general public. In addition, insufficient funding is available to support firms to modernize their equipment, indicating a lack of active participation and motivation on the side of Russia's government which directly affects local and private incentive.
This lack of local and private enthusiasm is even more so the case due to the government's increasingly dismissive attitude towards the dire situation of Russia's energy efficiency. Russia's climate and size is largely blamed for Russia's high energy consumption and is even seen as an impediment to any tangible improvement. While it is a valid argument in the sense that it does pose a challenge and does considerably add to Russia's energy consumption, it does not change the fact that something can and should be done both with consumer's attitudes and governmental support by creating a solid governmental framework that is able to encourage and support real improvement. Such measures that have been presented by many researchers around the world would benefit the well-being of Russia's environment and population, as well as in the long run be beneficial for the future development and growth of Russia's domestic economy.
---
Bibliography
Davydova, Angelina. 2015. Energy efficiency in Russia. February 12. Accessed June 4, 2019. https://www.opendemocracy.net/en/odr/energy-efficiency-in-russia/.
IEA. 2018. Energy Efficiency 2018, Analysis and outlooks to 2040. October 19. Accessed June 3, 2019. https://www.iea.org/efficiency2018/.
—. 2014. "Russia 2014 –Energy Policies Beyond IEA Countries." International Energy Agency. June 5. Accessed June 3, 2019. https://webstore.iea.org/energy-policies-beyond-iea-countries-russia-2014.
Kremlin.ru. 2018. Russian Energy Week International Forum. October 3. Accessed June 4, 2019. http://en.kremlin.ru/events/president/news/58701.
Lobova, Svetlana Vladislavlevna, Aleksei Valentinovich Bogoviz, Yulia Vyacheslavovna Ragulina, and Alexander Nikolaevich Alekseev. 2019. "The Fuel and Energy Complex of Russia: Analyzing Energy Efficiency Policies at the Federal Level." International Journal of Energy Economics and Policy 9 (1): 205-211.
McKinsey & Company. 2009. Pathways to an energy and carbon efficient Russia. McKinsey & Company Inc.
Ministry of Energy of the Russian Federation. n.d. Общие положения (Энергоэффективность). Accessed June 4, 2019. https://minenergo.gov.ru/node/5195.
The World Bank. 2014. Energy Efficiency in Russia: untapped reserves. The World Bank Group.
The WINDFORCE Conference has become the central meeting place for the offshore wind industry in Germany during its 15-year history. The WINDFORCE Dinner will offer participants the opportunity to enjoy the company of existing and new business partners in a pleasant atmosphere.  
Creating a unified foundation for the Sustainable Development: research, practice and education.
2020 European Fuels Markets & Refining Strategy Conference is already the 4th edition of a successful series. The event brings together senior executives and experts. They will be coming from the refining industry, policy makers, consultants, technology innovators and leading market analysts. The discussion will focus on the latest challenges and developments within the industry.
ENERGY-HUB is a modern independent platformsharing news and analytic articles from the energy sector on a daily basis. Within our portfolio we monitor czech, slovak and foreign press releases.
52704
Number of published news
1715
Number of published events
526
Number of published articles